Fabianelli
Manufacturer country: Italy
Year of foundation: 1848
"Pastificio Fabianelli" S.p.A. is one of the leading companies in the world producing traditional Italian pasta since 1848. Fabianelli's Group is completed and enriched by the brand "Maltagliati", "Pasta Toscana", a product of high quality durum wheat farmed only in Tuscany.
For over 150 years and through 5 generations of the Fabianelli family, the group has maintained its passion and devotion to traditional pasta making methods. In 1860 they began producing handmade pasta with the finest Tuscan durum wheat in a small lab in Castiglion Fiorentino, the heart of Valdichiana. In this small industrial area alongside the railway, Fabianelli made its break. The current production capacity is 1000 tonnes of fine pasta per day. The production, today, has an assortment of sizes, shapes and lines such to meet the needs of international customers: durum wheat semolina pasta, egg pasta, catering pasta.
Tradition, love, research, quality, experience and flavor are the secrets that can be discovered tasting a plate of Pasta Fabianelli.
"VAS GROUP" Ltd is the official distributor of the brand "Maltagliati" on the Armenian market since 2003.
Company's official web site:
http://www.fabianelli.it http://www.pastamaltagliati.it, https://www.pastatoscana.it/
MALTAGLIATI
High quality Italian wheat
Hopes, dreams and a unique passion for pasta
In 1848, when the historical setting was not in peace and the Westerner seemed to be pervaded by a spirit of renewal, Vincenzo Maltagliati founded "Il Pastificio". A story tale in which the Great History, the one of the big events, of the Springtime of the Peoples and of the Italian Risorgimento, was the ideal setting and inspiration that gave birth to a new Italian reality, that was bound to grow up and assert itself as a business venture of our country. Hopes, dreams and a unique passion for handmade pasta are the base of its origin together with an extraordinary capacity of combining tradition and innovation. In this way Vincenzo Maltagliati was appointed Master Pasta Maker and the history of pasta evolved to what it is today.
Today Maltagliati is produced by Fabianelli, that has been able to preserve the main features of this pasta, a worldwide symbol of quality, taste and Made in Italy. The brand share the important values of authenticity and quality, that have passed down from generation to generation and are typical of the entire productive chain together with innovation and research. All these aspects allow to serve the best pasta. Water and durum wheat semolina kneaded and drawn, with a real passion for the shapes, to satisfy the palate.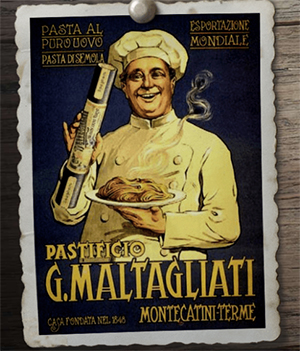 Pasta Maltagliati, an Italian product that teaches the culture of food. A combination of past and present, perfectly produced, to give off fragrance and flavor that conquer the international tables.
PASTA TOSCANA
100% Tuscan Durum Wheat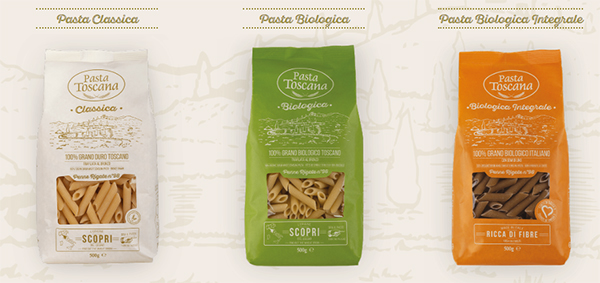 Born from the intuition and continuous research of Pastificio Fabianelli, our pasta not only has excellent organoleptic properties but it helps preserve our health by facilitating the digestive process and contributing to the prevention of cardiovascular diseases. We use high quality hard wheat coming from a qualified supply chain of Italian and Tuscan farmers and the pure water from our territory to offer a product that respects man and environment.
The scrupulous selection of raw ingredients is only the first step of the marvelous course that the Fabianelli family has handed down with passion and devotion for over 150 years.
This process culminates with bronze drawing at low temperatures so that the nutritional properties of the wheat remain intact and give our pasta the right perfume, texture, taste and roughness a real joy for the palate.
Pasta Toscana is available in three classicа, organic and organic whole, dietary versions, each of which has its own characteristics and different packaging formats. Product in detail below:
---
PASTA TOSCANA


Classica
100% Tuscan Durum Wheat
PASTA ACCORDING TO TRADITION
Pasta entirely produced in Tuscany with high quality wheat coming from our region and expertly worked in our factory in Castiglion Fiorentino. Innovative production technology and bronze drawing make a premium quality pasta with a rough surface that holds the sauce perfectly. The "Agriqualità" mark, granted by the Region of Tuscany certifies that our product is made using integrated agricultural techniques and safe conservation and packaging practices. Authentic, typical, wholesome: this is our PASTA TOSCANA.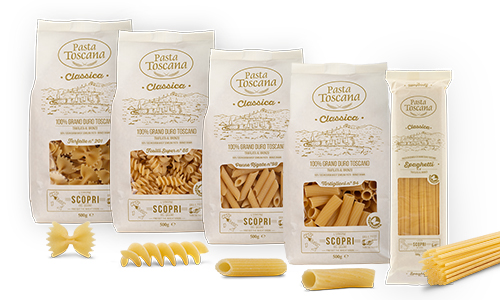 Advantages of classica PASTA TOSCANA:

- Agriqualità mark guarantees production and harvesting techniques that respect the environment
- Comes from a selection of 100% Tuscan wheat
- Bronze drawn and dried at low temperatures
---
PASTA TOSCANA
Biologica
100% Tuscan Organic Wheat
RESPECT FOR THE MAN AND THE ENVIRONMENT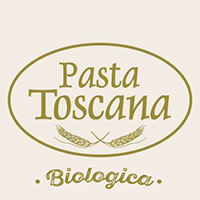 Pasta entirely produced in Tuscany using the best organic wheat semolina cultivated in our region without pesticides and chemical fertilizers according to the old farming tradition. The production process that combines tradition and innovative technology with bronze drawing and slow drying at low temperatures give our pasta the right roughness, "al dente" cooking and superior organoleptic properties. A conscious choice that lets us taste a product with a high nutritional value in full respect of the environment.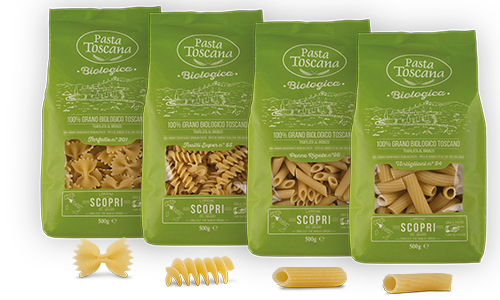 Advantages of organic PASTA TOSCANA:
- Made with Tuscan 100% organic durum wheat cultivated according to organic standards
- Rough and porous surface.
- Bronze drawn and dried at low temperatures.
- Product with high nutritional value.
---
PASTA TOSCANA
Organic Whole
100% Tuscan Organic Whole wheat with Omega 3
DAILY WELLNESS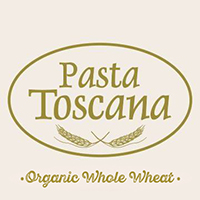 Pasta made entirely from 100% organic high quality whole wheat and pure water with Omega 3 coming from flaxseed flour (Ala Omega 3). Bronze drawn and dried at low temperatures to maintain a unique flavor and a rough and porous surface. It contains a high amount of fibre that contributes to a sense of satiety and consequently helps to control body weight. It also contains vitamins and minerals that help us feel well and keep in shape. Omega 3 fatty acids contribute to prevent cardiovascular and metabolic diseases.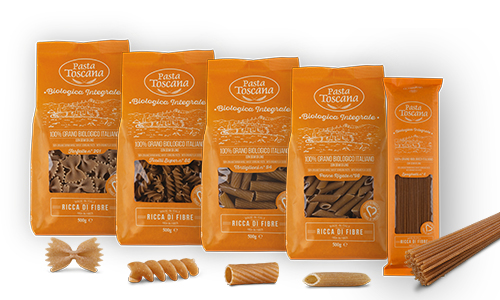 Advantages of Organic Whole PASTA TOSCANA:
- Highly digestible and filling thanks to the high fibre content
- 100% organic whole wheat cultivated in Italy
- Omega 3 of vegetable origin with preventive action against cardiovascular and metabolic diseases.